Big Morphing Boon

I mistakenly wrote in my last column, "Ryan's Song", that Ryan Dancy was not the Battletech Brand Manager. He is. Also, alert reader Benjamin C. Ford noted a mistake in my "Laser Wire" column. It has since been corrected. Thanks are also due to Ryan Dancy, who responded to my column with an extensive essay. The upshot of the essay was that Netrunner lacks too many necessary elements to be commercially successful. My personal feelings could be the topic of some future Last Words.
It was a big surprise to find out that until you break your fourth Sentry, Big Frackin' Gun is the best deal in the game!

Have you ever wondered what the best Sentry breaker was? I have. Using a Microtech AI Interface to operate a Raven Microcyb Owl, I was able to come up with some concrete answers. First, I needed to enter my own biases and preferences to help narrow the search. I made a list of all the sentries and then eliminated the ones I seldom see in play:

Then I seperated the remains into two groups. The first are encountered occasionally, group A:

Which leaves the Sentries I can expect to see frequently, group B:

Next I eliminated the breakers that are hopeless alone:

Then I took the average cost for each remaining breaker against the two groups: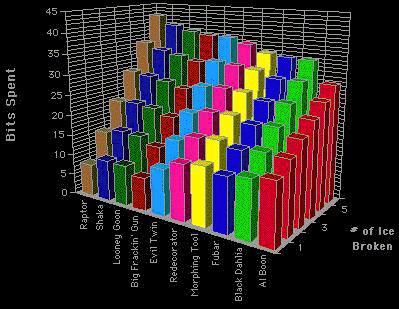 There are two special cases:
If you want to blast through a single Sentry at the start of the game, use Raptor.

If you plan on repeatedly breaking the same Sentry, use Black Widow.
It was a big surprise to find out that until you break your fourth Sentry, Big Frackin' Gun is the best deal in the game! That's small consolation if you want to keep passing a lone Banpei on R&D, but it's great for smacking into unexposed ICE. Include some Speed Chips in your stack and pop the CEO's eyes when he realizes that it is your only Sentry breaker.

When you break your fourth Sentry, AI Boon takes over as the bit-effective champ. I'm not going to recommend it as the best. I used 3.5 in the graph, but that die roll can mean huge bit swings when running a single fort with two or more large Sentries. Granted, some rolls will save you a lot of bits, but I hate to cast my fortune (literally) to the roll of a die.

Black Dahlia, Morphing Tool, and Fubar are not that far off. I can't recommend Dahlia because the other two have the additional ability to break other types of ICE. The ability of Morphing Tool to keep changing the type of ICE it breaks makes it worth the slightly higher expense. Fubar is very slightly better than Dahlia, so it could make sense as a dedicated Sentry breaker.
AI Boon is the best if you want to play the odds.


Big Frackin' Gun is best if you anticipate big Sentries or few encounters.
Morphing Tool is the best compromise of flexibility and long-term savings.
Use of any of these programs is not recommended or condoned by Masseysushita, Inc. Trust me, I'm